Sutherlin, Creswell, Cottage Grove Videographer Insurance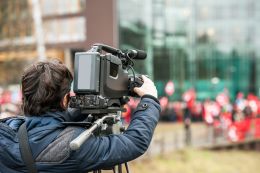 A videographer has complex needs when it comes to covering risk. Most have a studio and expensive equipment. You also have to factor in working on site for an event like a wedding. This is your livelihood so you NEED the right coverage.
The most common type of policy for Videographers in Oregon is a Business Owner Policy or (BOP). This will protect your studio in a similar way that a homeowners policy will protect your home. There are a few basic coverages that many small businesses need including a videographer.
Business Income - Very simply helps protect you from the loss of income when you can't run your business. Damage to your studio would be an example.
General Liability - This will protect you in the case of damage your equipment might cause in the course of providing your service or if a customer were to trip over your equipment and injure themselves.
Commercial Property – This is important to protect your studio and equipment. It would also apply for rented equipment.
Videographer Equipment Liability Insurance in Sutherlin, Creswell, Cottage Grove
As with any type of business there will be factors that vary from business owner to business owner like whether you use a vehicle or have employees. Some of the other types of coverage available in Sutherlin, Creswell, Cottage Grove that could be helpful depending on your needs:
Workers Compensation
Commercial Auto
Personal Injury
Umbrella
Errors & Omissions
At DALACS Insurance Team, we will help you evaluate the overall picture and make the right decisions based on your risk. Give us a call today!